6.0.0: Negotiants - Reward Exchange
03.02.2015

Dear Sarnaut,
Update 6.0 "Broken Chains" will bring you an innovative system that allows players to focus on activities they enjoy, without missing out on rewards from other activities - even if you do not participate in them!
This is all thanks to the Negotiants, who've forged a system that can be accurately described by its technical title - "Reward Exchange". Thaler de Pluie in Novograd and Semer Dinar in Nezebgrad, who reside next to the auction houses of both factions, can help players get to grips with this new system.
Thanks to the Negotiants, each player has an opportunity to dedicate their time to the activities that they find most interesting. For example, if you prefer to only take part in Skirmishes, you may still obtain other rewards valuable for trading. Negotiants redistribute rewards by purchasing unneeded items for Coins of Free Traders - which is the same currency used to purchase items from them.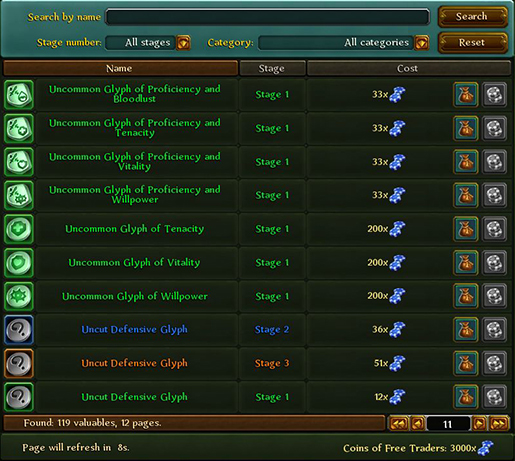 After installing the update, your character shall receive a certain amount of Coins of Free Traders - depending on the amount of Fabled Glyphs of level 56 they have. Coins of Free Traders can also be obtained by completing storyline quests in new zones!
Purchase and selling prices dynamically depend on the amount of items being bought and sold. For example, if players sell a lot of Ship Crystals and the demand for Amalgam is high, the price of Amalgam will go up, while the price of Ship Crystals will go down. In short, prices are recalculated per each sold item.
The following goods can be traded with the Negotiants:
Amalgam
Ship Crystals
Glyphs & Glyph Crafting Components
Please note: This list is not final! We'll be considering additional options during the season, depending on feedback from players.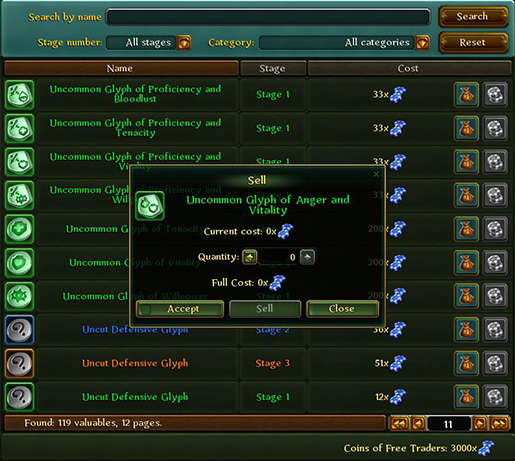 Glyphs of higher qualities will be available at the Negotiants with each new unlocked stage of the season - and any player can buy them after having completed the required storyline quests, though don't forget that Glyphs of uncommon and higher quality can only be inserted into items of the relevant (or higher) quality.
The price of Amalgam will alter with each unlocked stage of the season, correlating with the prices of the Glyphs of unlocked qualities.
Prices of items at the Negotiants will have fixed minimum and maximum values. If the price of a certain item drops to the minimum, the item cannot be sold until someone buys it and raises its cost. In addition, goods purchased from the Exchange are bound to your character and cannot be sold back to the Negotiants.
All items available at the Exchange cannot be handed directly to other characters - including your Incarnations. However, you can use an empty Ark to transfer Coins of Free Traders to your Incarnations instead.
Initially, only low-quality items will be available at the Negotiants, though items of higher qualities will be gradually unlocked over the course of the season. The number of items purchasable from the Negotiants will be limited only by the amount of Coins of Free Traders at your disposal.
That's it for the Negotiants - but stay tuned for more 6.0 "Broken Chains" updates soon!
To discuss these changes, join us in the 6.0 Negotiants Dedicated Thread!
---

Like this news and reap the rewards!
If we reach 250 "likes" across all languages on Facebook and the Guild Portal by Friday, then Lucky Hours will be available for your enjoyment over the weekend!
-The Allods Team