Premium System
25.08.2017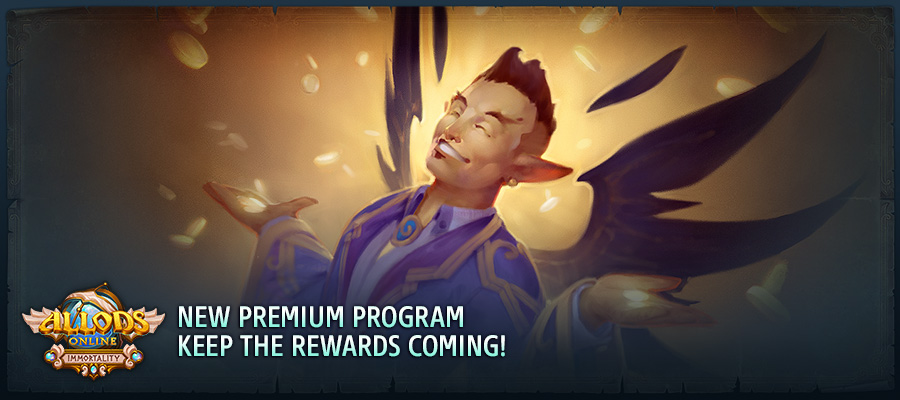 With update 8.0.0 Immortality, we have implemented the Premium system which will be interesting for those who play on F2P servers and occasionally top up their accounts.
First and foremost, you should remember that this new feature allows getting bonuses to your purchased crystals, and using it does not require any additional payments.
This is how the Premium system works: all your top-up payments are summarized, and based on that total amount, your account is assigned one of the eight Premium levels. Together with that, a new tab appears in the Boutique window which contains some valuable goods, which are given either for free or at a significant discount. The higher is your Premium level, the more interesting items appear in the corresponding tab of the Boutique.
For instance:
1st Level: unstable mounts, discounts on folios, etc.
2nd Level: 10 Water of Life Droplets, etc.
3rd Level: 10 Water of Death Droplets, Magic Tablecloth, Master Goblin, etc.
4th Level: exclusive title, daily incense, 5th patronage level, etc.
5th Level: single-use core, Sparkling Balm, etc.
6th Level: Cauldron which will supply all your raid with defensive and offensive elixirs, a Clear Rune of level 12, exclusive style items, multi-use Thunderstrike, etc.
All goods at the Premium Boutique are given for free but have a limited lifetime (up to 30 days). Some valuables are sold for crystals, but they cost more in other Boutique tabs or don't appear anywhere else (like titles or Magic Tablecloth). To get items from the Boutique, you will need coupons, which are given every time you get a new Premium level. The higher is the level, the more coupons you get. All valuables cost one coupon.
Certain bonuses are given as a useful effect which works on your character until day 25 of each month (like Sparkling Balm on level 5). You can learn about those effects in the corresponding tab of your spellbook (P key by default). Of course, high-level Premium users have access to all bonuses from the previous levels.   So to sum up: when you top up your account, apart from the crystals, now you also receive a set of bonus items, as well as certain discount offers.
You can view the full list of Premium goods in the Premium tab of the Boutique. The grey icons are yet unavailable for you, but you can still view the item description. In the right part of the Boutique window, you can view your Premium progress bar.
Please also note that all your payments are counted in real time, so your Premium level might change as soon as you top up your account - just watch the bar.
You Premium status is reset on day 25 of each month. This is when all temporary premium items expire (not in 30 days, but on day 25 of each month!). After that, your Premium bar starts filling all over again.
We hope that the new system will help you invest your money as effectively as possible.   We also realize that it can imply some questions, and we will gladly answer them on the official forum.
Enjoy the game!