Community Event: Tropical Atoll Travel Blog
02.07.2021
Dear friends!
Our Tropical Atoll is available for you to enjoy summer from its best side!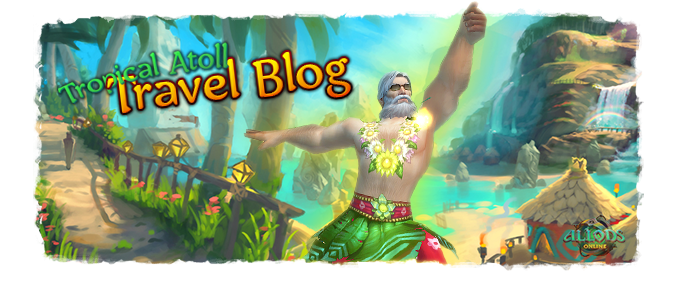 Professional Travellers like Nicholas Miklouho report on exciting experiences in this holiday paradise. Sometimes he observes how Bup the Glassy gets ripped off by Dodo the Crabber in the crab race, then again he undertakes an exciting dive to sunken treasures after a tip from a bartender and sings his heart out in the evening at karaoke with the locals.
What did you experience during your vacation on Tropical Atoll? Maybe you have some amazing recommendations for other travellers on how to spend their time, or some Dos and Dont's? Tell the community about it in a post designed as a fictional blog entry and dont forget to add pictures!
Rules:
Only one blog entry per player
The participations are multi-server
During your participation indicate your main avatar name, as well as your game server
After your participation is posted, don't rename your in game character, if you do you won't receive the rewards
Each blog entry should consist of a narrative illustrated with images from the game
You have to respect forum rules in terms of text composition
Post your entry at this link
You have until July 31 - 23:59 CET to participate
The most original entries each language (EN, FR, DE, TR) will win!
Rewards:
First Place - 2000 Premium Crystals or Marks of Accomplishment
Second Place - 1500 Premium Crystals or Marks of Accomplishment
Third Place - 1000 Premium Crystals or Marks of Accomplishment
Fourth Place - 750 Premium Crystals or Marks of Accomplishment
Have fun!